Imagine you're about to embark on an ambitious journey, your compass, the effective marketing and advertising strategies of today. How do you navigate the ever-changing landscape of social media, influencer marketing, and SEO? The secret weapon? Agencies for advertising.
Quick Takeaways
Advertising agencies help brands navigate the ever-evolving digital world.
Agencies offer comprehensive solutions across social media marketing, influencer marketing, and SEO.
Choosing the right agency involves understanding your brand's needs, assessing the agency's expertise, and reviewing their track record.
The future of advertising agencies lies in staying updated with the latest trends and technological developments.
The Value of Advertising Agencies
The Dynamic Marketing Landscape in the Philippines
The marketing landscape in the Philippines is truly dynamic, unique, and intriguing. Brand owners, business executives, and marketing managers need to keep up with the latest trends, as the Filipino customers are always craving for fresh and engaging content.
From Traditional to Digital
The transition from traditional to digital marketing in the Philippines has been significant. In fact, companies, including big name players such as Jollibee, a leading Filipino fast-food chain, have ventured into the realm of social media marketing and SEO to reach their audiences effectively.
Local Brands Making Global Waves
Another example is the success of Bench, a Philippine retail brand, which employed a mix of social media advertising, influencer marketing, and SEO strategies to build its global presence.
The Influence of Social Media
Social media's influence cannot be overstated, with platforms such as Facebook and Instagram becoming fundamental in companies' marketing strategies. For instance, in our case study, Wendy's Philippines reached 27.9M customers by engaging 1.4M users across social media.
How Advertising Agencies Assist Brands
Advertising agencies, particularly digital ones, provide the strategies, tools, and expertise needed to capture this dynamic marketplace. They equip brands with the skills necessary to increase visibility, customer engagement, and market share.
Valuable Insights and Analytics
A key offering from advertising agencies is insights and analytics. Leveraging tools for social media listening, they can track, analyze, and interpret customer interactions and sentiments towards a brand. This enables brands to tailor their strategies to suit their audience's preferences and behaviors.
Driving User-Generated Content
Agencies also encourage user-generated content, a powerful method of promoting brands. As evidenced by the Conti's case study, user interactions led to significant customer engagement and brand visibility.
Community Management and Engagement
A notable service is community management, where agencies manage a brand's online community to stimulate engagement, handle concerns, and foster brand loyalty.
Deploying Influencer Marketing Campaigns
Advertising agencies also understand the profound impact influencers can have on a brand's image and sales. By collaborating with influencers, agencies can promote a brand's products or services to a vast, loyal audience in an authentic, convincing manner.
The Power of Celebrity Endorsements
Philippines, being a celebrity-obsessed nation, has seen numerous successful brand campaigns using popular personalities. Take for instance, Anne Curtis, a well-known Filipina actress, and her influence in promoting Jollibee's products. Or how the online clothing brand, Love, Bonito, partnered with Filipina influencers for their successful #WomenOfLB campaign.
The Rising Influence of Micro-Influencers
Moreover, agencies can also tap into the power of micro-influencers. For instance, in our case study, a well-planned influencer marketing campaign garnered over 8M new customers and established nine new franchises in just six months.
Mastering SEO with Agencies for Advertising
The marketing landscape grew more complex with the advent of search engine optimization or SEO. Advertising agencies, armed with SEO specialists, guide brands in optimizing their online presence, ranking them higher on search engine results, and enhancing their visibility.
Importance of SEO in the Philippines
In the Philippines, where internet penetration is high, SEO plays a crucial role in a brand's digital strategy. Brands like Lazada and Shopee have successfully used SEO strategies to dominate the e-commerce market in the Philippines.
Cracking the Google Algorithm
Advertising agencies continually unravel the mysteries behind Google's algorithms, staying up-to-date with the latest SEO trends. For instance, Google's emphasis on mobile-friendly pages and the rise of voice search are two trends that agencies incorporate into their SEO strategies.
Local SEO: Targeting the Filipino Customer
An important aspect of SEO that agencies can provide to brands is local SEO. This focus on geographic-specific searches allows businesses to reach their local audience effectively. An apt case in point is the drive+ case study, where localized SEO efforts drove 6.7M customers to visit the car service center.
The power of advertising agencies in today's marketing world cannot be understated. They are the compasses brands need to navigate the complex seas of digital marketing, influencer collaborations, and SEO strategies. With their expertise, brands can chart their course towards success in the vibrant and dynamic marketing landscape of the Philippines.
Choosing the Right Advertising Agency in the Philippines
Having established the crucial role of advertising agencies, the challenge for most brands is to select the right partner to propel their digital marketing efforts.
Understand Your Brand's Needs
The first step in choosing an agency is to have a clear understanding of your brand's needs. Are you looking to expand your social media presence? Or do you require a comprehensive SEO strategy?
Assess the Agency's Expertise
Consider an agency's expertise in your required area. For instance, Lime Digital Asia, with a focus on social media marketing, influencer marketing, and SEO, could be an ideal partner if these are the services you need.
Look for Proof of Success
Look into an agency's past projects, their successes, and how they achieved their results. Case studies can be incredibly insightful. For example, in the greenfield tools case study, Lime was able to generate 9M worth of tools added to the cart in just three months.
Lime Digital Asia: Navigating Brands to Success
At Lime Digital Asia, we understand the importance of staying ahead in the ever-evolving world of digital marketing. With a unique blend of strategic planning, creative thinking, and technical expertise, we help brands navigate through their digital journey.
A Trusted Advertising Agency in the Philippines
With a reputation as one of the most trusted advertising agencies in the Philippines, Lime Digital Asia has worked with numerous brands, helping them make their mark in the digital world.
Comprehensive Digital Marketing Solutions
Our comprehensive solutions encompass all aspects of digital marketing – from SEO to influencer marketing and social media advertising. Our dedicated team of specialists ensures your brand's messages reach the right audience at the right time, generating maximum impact.
Track Record of Success
With a proven track record of driving business results for our clients, Lime Digital Asia's success stories span across industries. From driving customer engagement for Wendy's to crafting a successful social media strategy for Bench, our strategies have brought tangible business outcomes to our clients.
Your brand's journey into the digital world demands a reliable and skilled navigator. A partner who understands your brand, your audience, and most importantly – your vision. Lime Digital Asia is that navigator, guiding you through the exciting yet challenging voyage towards digital success.
The Future of Advertising Agencies in the Philippines
As digital marketing continues to evolve, so do advertising agencies. They stay attuned to the latest trends, technological developments, and changes in consumer behavior. These agencies must future-proof businesses by equipping them with adaptable strategies.
The Rise of Video Content
From 15-second TikTok clips to informative YouTube videos, video content is becoming the preferred form of communication for brands. Advertising agencies are now investing in video production units to deliver compelling, high-quality video content.
The Importance of Data Privacy
With an increasing emphasis on data privacy, agencies must create strategies that respect the privacy of consumers while still providing personalized experiences. This delicate balance is achieved through transparent data practices and privacy-compliant technologies.
The Growing Role of AI
Artificial Intelligence (AI) is transforming digital marketing. From chatbots providing customer service to predictive analytics enhancing marketing strategies, AI will be integral for agencies in the future.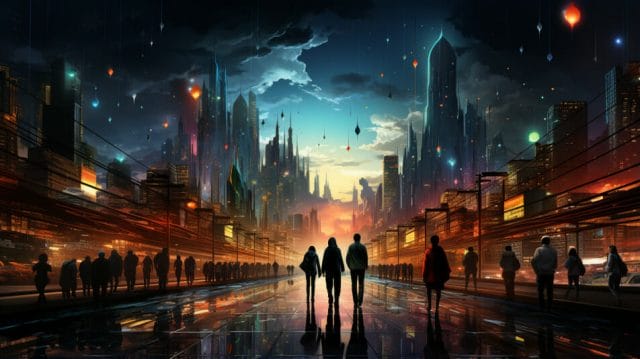 The rapid evolution of digital marketing presents both challenges and opportunities for brands. Adaptive and forward-thinking, agencies for advertising in the Philippines, like Lime Digital Asia, are ready to steer brands towards success, no matter what the future holds.
With strategic planning, creative thinking, and a deep understanding of the marketing landscape, advertising agencies are your brand's comrade in arms, guiding you through the ever-evolving digital world. As one of the leading advertising agencies in the Philippines, Lime Digital Asia is dedicated to helping brands harness the power of strategic marketing and make a mark in the digital world.
Frequently Asked Questions
Why are advertising agencies essential for brands?
Advertising agencies provide brands with strategic marketing solutions, expert knowledge, and tools to effectively reach their target audience. They guide brands through the continually evolving digital marketing landscape.
How do advertising agencies leverage social media for marketing?
Agencies use social media platforms to boost a brand's visibility, engage with the audience, generate user content, and handle client inquiries. They analyze customer interactions to tailor strategies aligned with the audience's preferences.
How do advertising agencies help with search engine optimization (SEO)?
Advertising agencies have SEO specialists who optimize a brand's online presence, improve search engine ranking, and increase visibility. They stay updated with the latest SEO trends and Google algorithms.
What is the role of influencer marketing in advertising agencies?
Influencer marketing is a pivotal strategy for agencies. They collaborate with influencers to promote a brand's products or services to a wide, loyal audience.
How do brands select the ideal advertising agency?
Brands should understand their needs, assess the agency's expertise, and look for proof of success in the agency's past projects. It's crucial to choose an agency that aligns with the brand's vision and target audience.
What are some of Lime Digital Asia's specialties?
Lime Digital Asia specializes in social media marketing, influencer marketing, and SEO. With a blend of strategic planning, creative thinking, and technical expertise, Lime Digital Asia helps brands navigate their digital journey.
What is the future of advertising agencies?
The future of advertising agencies involves staying updated with the latest trends and technological developments, including video content, data privacy, and AI.
How does Lime Digital Asia future-proof businesses?
Lime Digital Asia ensures businesses remain adaptable by staying updated on the latest trends and technological developments. It provides strategies respecting data privacy and leveraging AI and video content.
Brands and businesses must navigate the challenging yet exciting waters of digital marketing. They need a guide, an ally, a strategist – and that's where advertising agencies come to the fore. With the right partner, like Lime Digital Asia, any brand can journey through the vast digital landscape towards success.