With the ever-growing digital landscape, businesses from all over the world are competing to secure their share of the digital pie. Brand owners, business executives, and marketing managers are turning to comprehensive digital marketing strategies to propel their brands to new heights of success. One such promising landscape that's gaining momentum is the digital marketing scene in the Philippines; a game-changer for businesses seeking to enhance their online presence, engage with their target audience, and achieve brand success. In this two-part article, we will dive into the power of the Philippines digital marketing landscape and show how a top digital marketing company in the Philippines can provide value and insights to help your brand thrive in today's competitive market.
A Booming Market: Philippine Digital Landscape Overview
Rapid Internet and Social Media Growth
The Philippines has become a digital powerhouse in recent years, joining the ranks of countries with the fastest-growing internet and social media usage worldwide. With a population of over 108 million, the Filipino market presents a massive opportunity for businesses to establish an influential digital presence.
Here's a quick overview of the significant rise in internet and social media usage in the Philippines:
Internet Users: Since 2000, the number of internet users in the Philippines has skyrocketed from around 2 million to over 67 million in 2021.
Social Media Users: As of 2021, there are approximately 89 million active social media users, with Facebook, Instagram, and Twitter dominating the scene.
Rapid E-commerce Growth
In the last few years, the Philippines has witnessed a rapid growth in its e-commerce landscape, with local and international businesses jumping on the bandwagon to establish their online retail presence. Big-time players like Lazada, Shopee, and Zalora have stormed into the market, offering Filipinos a wide range of products and services at their fingertips.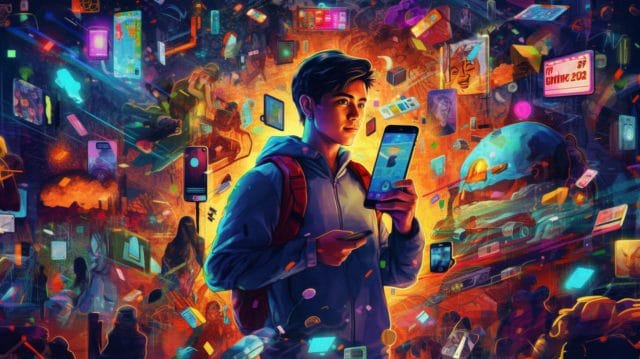 The Digital Breakthrough: Capitalizing on the Philippine Digital Marketing Landscape
Considering the promising online growth in the Philippines, businesses worldwide have started to recount the value brought by digital marketing campaigns uniquely designed for the Filipino audience. These campaigns perform exceptionally well by leveraging locally relevant content, native advertising techniques, and partnerships with influential Filipino figures to enhance audience engagement.
Take Jollibee, for example – this famous Filipino fast-food chain has managed to garner worldwide attention by tapping into the digital marketing landscape effectively. With a strong focus on creating viral, emotion-driven content and leveraging popular local artists, Jollibee has been successful in resonating with its Filipino audience and significantly expanding its online presence.
Embracing Localization
One key element of successful digital marketing campaigns in the Philippines is the power of localization. Filipino consumers appreciate advertisements and promotions that cater to their cultural values, preferences, and habits. This means using local languages, relatable contexts, and references to popular Filipino culture in your marketing campaigns.
By employing a digital marketing company in the Philippines with an in-depth understanding of the local culture, businesses can benefit from a team of knowledgeable professionals who know what clicks with the Filipino target audience. This forms the key to creating engaging content that resonates with the market and establishes a unique brand identity.
Building a Strong Social Media Presence
As mentioned earlier, the Philippines has an immense social media user base. This makes social media platforms like Facebook, Instagram, and Twitter crucial marketing channels for businesses looking to tap into this valuable resource. A successful social strategy should include regular posting of relevant and engaging content, tailored for the target Filipino audience to establish a stable online presence.
By partnering with a reputable digital marketing company in the Philippines, businesses can leverage their expertise and resources to amplify their social media reach, create compelling content, and maintain consistent, timely posting schedules that resonate with their Filipino audience.
Influencer Marketing
With the increasing popularity of online influencers and content creators in the Philippines, brands can benefit immensely from partnering with these relevant influencers to promote their products or services. By tapping into their influential social following, businesses get an opportunity to showcase their offerings to a broader audience while gaining credibility through the endorsement of the influencer.
For instance, let us look at the case of a popular Filipino beauty brand, Sunnies Face. They collaborated with influential local bloggers and celebrities to showcase their Fluffmatte lipstick range. These collaborations fueled a massive buzz online with a strong engagement rate, resulting in a massive sales boost for the company.
Leveraging the expertise of a digital marketing company in the Philippines can help your business identify, approach, and collaborate with suitable influencers to create an impactful influencer marketing campaign.
Utilizing Local SEO
The rapidly growing e-commerce landscape in the Philippines highlights the importance of having a robust local SEO strategy. By ensuring your website ranks well in search engine results pages (SERPs) for keywords relevant to Philippine market, you increase the likelihood of attracting more local customers to your online store or website.
Working with a digital marketing company in the Philippines that specializes in local SEO can optimize your website and establish a strong online presence in the Filipino market.
Ready to Harness the Power of Philippines Digital Marketing Landscape?
If you're looking to elevate your brand's online presence and tap into the exciting and growing digital market in the Philippines, don't hesitate to contact Lime Digital, a leading digital marketing company in the Philippines with a proven track record of helping businesses break borders and achieve digital success.
Mastering the Core Channels in the Philippine Digital Marketing Landscape
1. Pay-per-Click (PPC) Advertising
Philippine-based PPC advertising is a powerful way to generate targeted traffic to your website quickly. Displaying your ads on search engines like Google, Bing, and Yahoo or social media platforms like Facebook and Instagram can offer an excellent return on investment (ROI), especially when targeting Filipino customers since they are highly engaged online users.
To get the most out of your PPC campaigns, it's essential to work with a professional digital marketing company in the Philippines that understands the local market and can effectively tailor and manage your PPC campaigns to drive optimal results.
2. Content Marketing
Content is king in the world of digital marketing, and it's no different in the Philippines. Effective content marketing means creating relevant, engaging, and valuable content that your target audience in the Philippines will want to consume. Blog posts, videos, infographics, and podcasts are all different content formats that can help you build a strong digital presence in the Philippines.
A digital marketing company in the Philippines can assist you in creating a data-driven content marketing strategy that appeals to the Filipino culture and values, ensuring your content meets the needs and preferences of your target audience.
3. Email Marketing
Filipino customers are no strangers to email promotions, and they appreciate personalized, targeted communication. Email marketing is a cost-effective way to nurture relationships with your target audience through promotional offers, newsletters, and announcements, directly reaching their inboxes.
Partner with a digital marketing company in the Philippines to develop an email marketing strategy that stands out in the crowded Filipino inbox, focusing on personalized content and segmenting your subscriber list to drive better results.
Top Digital Marketing Strategies for the Philippine Market
1. Mobile-First Approach
With the increasing number of mobile users in the Philippines, it's essential to have a mobile-first marketing strategy. Ensure that your website is fully optimized for mobile devices and consider using SMS marketing, mobile advertising, or mobile apps.
2. Video Marketing
Video marketing has taken the Philippines by storm and is showing no signs of slowing down, especially on platforms like Youtube and Facebook. Producing videos that engage, entertain, or educate Filipino consumers is a surefire way to increase your reach and build a loyal following.
3. Data-Driven and Performance-Based Marketing
Digital marketing success in the Philippines requires a focus on data-driven decisions and performance-based strategies. Regardless of which channels or techniques you choose, continuously monitor their performance and adjust the campaigns accordingly.
Embracing the Latest Trends for Digital Success in the Philippines
To ensure your digital marketing campaign in the Philippines remains effective and relevant, it's crucial to adapt to and leverage the latest trends, such as:
Voice Search Optimization: With the rise of voice assistant devices, optimizing your website and content for voice search can help capture organic traffic coming from these devices.
Interactive Content: Engage your Filipino audience with gamification, quizzes, and interactive tools that add value and create a memorable user experience.
AI and Automation: Utilize AI-powered chatbots, personalization tools, and marketing automation solutions to elevate your digital marketing efforts and improve customer experiences.
Conclusion: Partner with a Digital Marketing Company in the Philippines for Success
The Philippines digital marketing landscape is a goldmine of opportunity, boasting immense potential for businesses seeking to capitalize on the booming market. To truly thrive in this competitive environment, strategic investment in digital marketing initiatives driven by a reputable digital marketing company in the Philippines is essential.
Lime Digital is your one-stop digital marketing partner, offering tailored solutions for businesses hoping to tap into the lucrative Philippines market. Our team of experts is committed to providing value, insights, and support, ensuring your brand achieves success right in the heart of the Philippines.
Ready to elevate your digital presence in the Philippines? Get in touch with Lime Digital today!